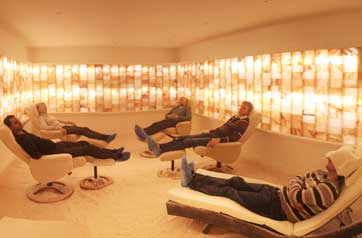 Who We Are
Little Himalaya is the home of Warwickshire's first salt cave and provides 45-minute salt therapy sessions to adults and children. We aim to help those suffering from respiratory issues including Asthma, COPD, Bronchitis, Emphysema and many others.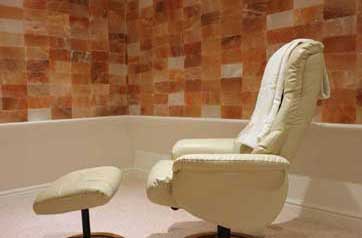 What is Salt Therapy?
Salt Therapy, or Halotherapy is a natural and holistic treatment for adults and children that has been known to aid in detoxifying the respiratory system, healing skin conditions, promoting better breathing, sounder sleep and overall wellness.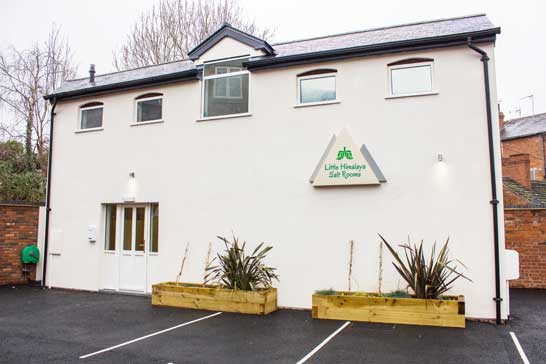 Visiting Us
Visit our salt cave at Little Himalaya and discover what salt therapy can do for you. Find out exactly where we are based, when we are open and all other essential need-to-know information such as our contact details and social media presence.
"Have been looking forward to my first trip to the salt cave at Little Himalaya and I wasn't disappointed. I've almost instantly noticed a positive effect on my breathing, not to mention the entire experience was one of the most relaxing times I've had in a long time! Can I move in please?!"
– Mandy, Gloucester
"Thank you Little Himalaya, my Asthma finally seems to be improving after years of suffering. I can almost feel the salt helping. I have family members who have Asthma too and I have told them to give it a go as I am sure they will see the benefits too."
– Maria, Birmingham
"For me the outcome of salt therapy is incredible! I couldn't believe how much my sinuses and lungs really opened up! My breathing improved instantly. I didn't realise how poorly I was breathing until I had my first session and I could instantly feel a difference. I highly recommend anyone to experience it for themselves!"
– Helen, Kenilworth
"I've racked up half a dozen sessions at Little Himalaya salt cave now and I can honestly feel a difference to my body. I started going to salt therapy to help with a skin condition, then unfortunately I came down with a chest infection a couple of weeks ago. However, unlike previous infections, it has already completely cleared up- that never happened so quickly before and I can only assume that it's due to the salt therapy. Oh yes, and my skin is slowly but surely improving as well."
– Connor, Warwickshire
"I'm a middle aged man who suffers with COPD. This affects day-to-day activities. I find it difficult to cough up phlegm. Salt therapy however changed all of this almost immediately. I begin to feel the mucus being loosened which would then cough up the following day. I then started to use my inhaler less and less. I very happy to say that this so far has proved a success."
– Ted G, Stoneleigh
"For years I've has asthma and bronchial spasms. I use 2 inhalers. However, within two weeks of Salt therapy – going twice a week – I have not had to use my inhalers. I never enjoyed going out for dinner because people would think I had a bad cold when I coughed. Not anymore, I feel amazing! This salt cave therapy has been a miracle for me."
– Jane, Nuneaton
"Josh's asthma symptoms have shown a small but noticeable improvement since visiting your salt rooms. Plus we love how relaxing the whole experience is which is a nice bonus. Will be telling my friends for sure."
– Abigail, Kenilworth
"My little girl was barely sleeping due to her terrible cough. I've accompanied her to the Little Himalaya salt cave for five sessions now and we are finally beginning to see some real effects- she had 2 good nights on the bounce now- that hasn't happened for months."
– Pete, Stratford-Upon-Avon
"This place is the best! I first noticed real improvements after about half a dozen sessions. The main thing I felt was a significant increase in my stamina….my lungs just felt so much 'stronger' and able to cope with hard workouts (I run long distances a lot). Now I'm barely using my inhaler any more- if you'd told me that a few months ago I would have called you crazy! Oh and My sinus infection has cleared up almost completely too. Honestly can't praise your salt cave highly enough!"
– Ashton, Nottingham
"Fantastic! I am a terrible sleeper and therefore am almost always tired and lacking energy. Half a dozen sessions in a salt cave later and I am finally starting to feel human again. Yay!"
– Janet, Birmingham
Little Himalaya Salt Rooms
4 Goodway Cuttings
Station Road
Kenilworth
Warwickshire CV8 1JJ
Salt Rooms:
Monday                     Closed
Tuesday – Friday      10am – 1pm
Thurs & Fri eve          5 – 6pm
Saturday                    10am – 2pm
Sunday                      Closed
Others available on request
Beauty Rooms:       By appointment